Non-Violent

Silk?
By Reeta Rani Nayak
Mahatma Gandhi was critical of silk because of his Ahimsa (non-violent) philosophy. Animal rights NGO PETA and former Union Environment Minister, Maneka Gandhi and many others opposed silk for the same reason. But in Meghalaya and some other states in North East, groups of tribals rear silk without killing the moth in a traditional way. This is called locally as Eri or Endi silk and also known as peace silk, a type of wild silk made from the cocoons of wild and semi-wild silk moths. The best part is that this silk does not require boiling the live worms but only their cocoons ending a century old cruel method unlike usual silk production.
Unlike common Millbury silk, Eri silk also called Vanya silk is fed on wild plants. It is light, smooth, strong and called the queen of silk. But this is a slightly raw variety of silk with a not so uniform texture. Wild cocoons are collected from the forests by the tribes living closer to the forests, who then use them to hand weave silk. Nowadays the same is reared at home too. The dyes that Meghalaya weavers use are always vegetable dyes which they generate only from plant parts – leaves, fruits, barks or roots. "We have to take care of the silkworms like a baby. We have to make sure neither flies nor ants get to them," one weaver said.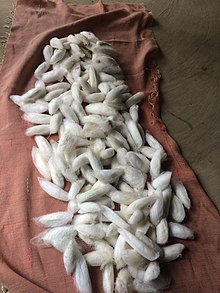 Sometimes lac is also used to give a brown or black shade to the yarns. The technique of making vegetable dyes is almost a closely guarded secret which only a few know. But this most famous ire silk is in bad condition without any market or patronage. What is sad is that many of these Eri silk farmers are also unaware of the potential of their unique merchandise. In the bargain they lose out to middlemen from other parts of the country by selling cocoons to them. These cocoons are sometimes sold as low as Rs. 700/- a kilo whereas the yarn that comes out is at least four times that price.
Umden is only 70 km from Shillong but the road connectivity is quite poor. There is no pucca road nor is there an adequate mode of transport. Hence, there is no great market opportunity. Despite huge potential, Meghalaya Eri silk industry is unorganized, obsolete and inconsistent. Almost all the work is done by womenfolk who have other chores – household, agriculture, child-bearing and rearing. This leaves them with little time to engage in this gainful but very time- demanding activity. The other problem is the lack of modern techniques. Whether it is spinning or weaving, the method of production employed is still the traditional one – manual and very low in efficiency and output with inconsistent quality. The looms are mostly floor looms that do not give a fine weave. They also cause health problems for the workers.
Chief Minister Conrad Sangma declared Umden as the state's first Eri silk village last year. A Design, Innovation and Research Centre (DIRC) has been set up in the village in 2022 in collaboration with the National Institute of Fashion Technology (NIFT). Department of Textiles in Meghalaya has roped in popular Shillong-based band Summersalt to create the story song Ryndia featuring villagers who express what weaving means to them. In Umden village 'Sidentraum' a German organization, in collaboration with the Meghalaya government, has come to the aid of the weavers by providing them with better methods of production technology and machinery.
They have provided what they call the 'Flying 8' looms which not only work faster and better but do not lead to back problems like the floor looms. But this is very limited. But the market, transport and communication problems still remain. As years went by, the traditional art of the Eri silk weaving began to take a backseat as weavers became interested in other professions. This has resulted in a reduction of people who knew how to spin and weave the unique silk. If there is enough impetus from the Government, sericulture in Meghalaya can be a great foreign exchange earner as the demand for Eri silk is very high in European markets.
Informatively, the entire ecosystem around Eri silk is green, sustainable and extremely high on eco- friendliness and renewability. The whole production of Eri silk fits the circular economy guidelines and is labour intensive. It has always been the choice of fabric of Royalty and Nobility. It still is the choice fabric of designers and creators of apparel and connoisseurs of great dressing. Silk has that certain natural fineness that other textiles cannot match. For all these qualities Silk is called the Queen of Textiles. Eri silk being natural fibre lends elegance combined with comfort. It's an all-weather fibre that keeps you cool during summers and warm during winters and is gentle on the skin. India produces silk garments, made- ups, fabrics, yarns, carpets, shawls, scarves, cushion covers and accessories through the raw material.
This famous peace silk is preserved for centuries in the remote village hidden in the lush green landscapes. Umden is not only bestowed with great nature, but also the place has a rich heritage. Lately, the village has become some sort of tourist place attracting foreigners from home and abroad. One can always take a tour around the village — observing the weaving and dyeing processes of Eri silk, a trip to local spots which includes springs, sacred groves, a bonfire at night accompanied by a dance/song performance by villagers, and local food.
Laishah Rymbai, in Raid Iapngar, a village in Meghalaya is a school teacher during the day but a Eri Silk weaver by the night.
Hailing from a weaver family, Iaishah got her first offer of 50 silk shawls in the same year of 2018, but could not find many weavers in the silk villages. But she wanted to fulfil the order and also help the villagers, especially women. She then approached the Raid Iapngar Handloom Weavers Cooperative Society to discuss ideas and ways to promote the art. She also founded "EriWeave" , a website for promoting Eri silk.
Soon, they were able to enrol a group of women, who were then trained in spinning and weaving Eri silk. After fulfilling the order, Iaishah's initiative to popularise Eri silk took off, in earnest. She is determined to take her Eri silk brand, EriWeave, to all corners of the world. The EriWeave products, comprising scarves, stoles, and fabric are sold via online channels, including Facebook and Instagram.
They are also available on their website, eriweave.in