RETURN OF

THE TIGER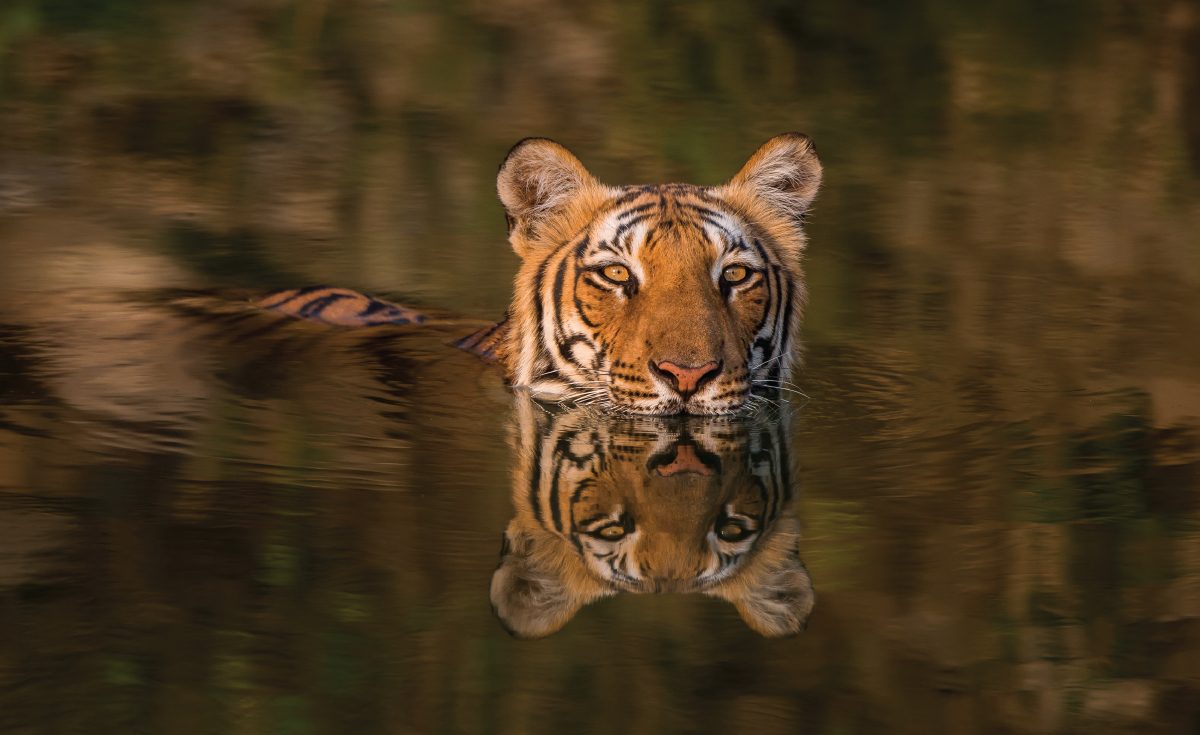 By -Asha Ramachandran
When 13 Tiger Range Countries (TRC) meet at Vladivostok, Russia, for their second Global Tiger Summit, on 5 September, 2022, it would be a time not just to reflect on the progress made to conserve the tiger globally but to chart a way forward. In the past 12 years, since the goal set in 2010, when the TRCs met for the first summit at St Petersburg, Russia, to double the tiger population in the wild, the number increased significantly in some areas but disappeared from others. It thus becomes essential for a close assessment of these trends, which is key to saving the tiger.
With alarm bells ringing over depleting tiger numbers, 13 tiger range countries, including India, Nepal and Bhutan, came together at St Petersburg, with a promise to cooperate and work towards doubling the global wild tiger population by 2022, which is also the Year of the Tiger. While the number of wild tigers globally has stabilised and "potentially increased" for the first time in decades, it has nowhere achieved the goal of doubling.
According to the latest data from the International Union for Conservation of Nature (IUCN) Red List of Threatened Species Assessment, there is a potential 40% increase in tiger numbers globally, from 3,200 in 2015 to 4,500 in 2022, despite extreme threats like poaching that feeds the illegal wildlife trade and habitat loss. Just a century ago, more than 100,000 tigers roamed Asia.
In its report, Panthera, an organisation that is devoted exclusively to preserving wild cats, and was part of the IUCN study, said South Asia, including India and Nepal, representing 76 per cent of the global tiger population, have shown an increase in numbers. In Northeast Asia, the numbers are relatively stable in Russia and likely increasing along the border with China. Of all regions, however, Southeast Asia's tigers are faring the worst, with tigers having been lost from Cambodia, Lao PDR, and Vietnam since the turn of the century, Panthera said.
While India achieved the goal four years ahead of target, in 2018, Nepal's tigers tripled in number as per its latest report. Government of India worked on a war footing following a report by the National Tiger Conservation Authority (NTCA) in February, 2008, that there were only 1,411 tigers left in the wild. India invested billions of rupees for conservation of the tiger and the result showed. As per the national tiger census, which is conducted once every four years, India's tiger population rose to 2,967 in 2018.
The number of tigers in Nepal tripled since 2010, with Indo- Nepalese collaboration playing a significant role. Nepalese Prime Minister Sher Bahadur Deuba made this announcement at a programme in Kathmandu to mark International Tiger Day on July 29. The Day was founded in 2010 when the 13 tiger range countries came together to create Tx2 – the global goal to double the number of wild tigers by 2022.
"Globally, Nepal has fulfilled its promise made in 2010 in St Petersburg to double its tiger numbers by 2022," Shiv Raj Bhatta from the World Wide Fund for Nature, Nepal, said. "But because all our protected areas border India and we have very good coordination with India on tiger conservation and management across corridors in the Terai Arc Landscape, we were able to increase our own numbers."
Addressing delegates at a pre-summit meeting of the Tiger Range Countries as a prelude to the global summit at Vladivostok, India's Union Minister for Environment, Forest and Climate Change, Bhupender Yadav, said while the achievement in numbers in the field is significant, it is time to focus more on consolidating the gains. India, he said, is in the process of formulating the vision plan for tiger conservation in India by involving all the stakeholders. He said the government has demonstrated its commitment to tiger conservation by increasing the number of tiger reserves from nine in 1973 to 52 at present.
On International Tiger Day, India's Prime Minister Narendra Modi lauded all those actively working to protect the tiger and added that innovative measures are being undertaken to involve local communities in tiger protection. At the third Asia Ministerial Conference, Prime Minister Modi had observed that tiger conservation is not a drag on development and both can happen in a mutually complementary manner by reorienting our conservation strategies.
India is having bilateral agreements and MoU with several Tiger Range Countries and is working very closely with Cambodia, for technical assistance towards bringing back wild tigers. As a founding member of the Global Tiger Forum, which is an intergovernmental platform, India intends to further partnerships and collaboration with all the Tiger Range Countries to secure the future of wild tigers both in India and as well at global level. The Environment Minister expressed his confidence that the deliberations of the pre-summit meet will pave the way for securing the future of wild tigers and their habitat globally.
While India has been the global leader in saving the tigers from extinction, managing to reach the goal of doubling the tiger population by 2022, four years in advance, the rising number of big cat deaths remains a concern. India has lost 1,059 tigers since 2012, with Madhya Pradesh, known as the "tiger state" of the country, recording the highest number of deaths (270) according to the National Tiger Conservation Authority (NTCA).
Commenting on the IUCN study, Panthera Chief Scientist and Tiger Program Director, Dr John Goodrich said, "Protected area population increases in India, Nepal and Thailand are particularly encouraging as they demonstrate that the recipe for saving tigers can be tailored and replicated across the species' range. If progress continues in the last decade, I fully expect tigers to be reclassified as 'Vulnerable' by the next IUCN Red List Assessment in seven to ten years."
Meanwhile, Tamil Nadu is set to host the Global Tiger Summit in October, 2022.Tamil Nadu is home to nearly 10% of India's tiger population, with 264 tigers as per National Tiger Conservation Authority (NTCA).
Source: Himalayan News Chronicle